PROFILES FROM THE 2019 GARDEN CRUISE…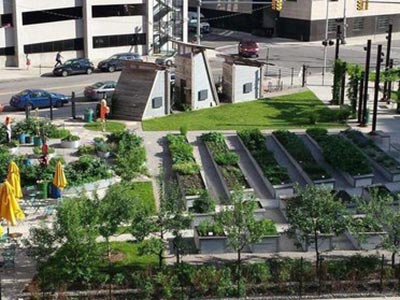 LAFAYETTE GREENS
The Greening of Detroit's Lafayette Greens is a green space and urban garden in the heart of downtown Detroit. Visitors, city workers, and neighborhood residents enjoy and relax in the space, watch veggies and flowers grow during the summer and enjoy seasonal programming. The award-winning garden was donated to The Greening of Detroit by Compuware in 2014. The Greening grows hundreds of pounds of chemical-free fruits, vegetables, herbs and flowers every year. Everything harvested goes to food banks, church pantries or volunteers. Visit www.greeningofdetroit.com for a calendar of events. Lafayette Greens is open to the public from April to September, Monday through Friday, 9am-5pm.
OWLHAVEN
This landscape and garden designed and installed by Deborah Silver and Co has been under construction for the better part of a year, and was just recently finished. A very beautiful Georgian style home built in the 1920's is sited on a large property. A considerable regrading project, attended by the addition of limestone terraces, staircases and retaining walls helped to create a large outdoor living area. A large cloister style pergola by Branch Studio was installed over top of a large reflecting pool lined in vintage style tile appropriate to the period of the house. The roof of the pergola features 2000 - 1-inch diameter steel spheres—be sure to look up! Many of the plants selected are known for their scent—a special request of the client. Both the pergola and a rose arbor in the side yard are home to a large collection of shrub and climbing roses. All of the property fencing was designed and manufactured specifically for this project by Branch Studio. Our excitement and pride in this new project made us keen to share it with gardeners who take our tour. Seeing the beginning, it will be easy to imagine what the future holds for this lovely landscape.
A DETROIT LANDSCAPE - REIMAGINED
This landscape, designed and installed in 2015, was featured on our 2016 garden cruise. Some three years later, many of the trees shrubs and perennials have grown substantially. We feel this project is well worth a second visit. This gorgeous old Tudor style home is located in a lovely neighborhood in Detroit. My clients made the decision to purchase the house, knowing it would take extensive renovation both inside and out. Their willingness to move into an old neighborhood in Detroit, and put down roots, is a move I greatly respect. Highlights include a beautiful pool and spa, a steel pergola of epic proportions planted with grapes and clematis, a small but charming conservatory, terraces sized for entertaining, and raised beds for vegetables and herbs. The wild garden, which spans the entire length of the rear yard, has become a major landscape feature. If you did not tour this garden in 2016, it will be a delight to see. If you did see it in 2016, you will marvel at what changes nature, and thoughtful care can add to a new landscape.
TOWN GARDEN
This property features a spacious house set on an typically-sized urban lot. Our clients winter in California, and summer on and off in northern Michigan, so this landscape needed to be highly edited and simple to maintain. The entire back yard is devoted to spaces on several levels geared for entertaining and relaxation. Due to the elevation of the ground floor, a substantial deck was built off the kitchen and family room which makes it easy to have friends and family over for dinner. The lower level is intimate, friendly, and quite private. Landscapes and gardens are for people, and should suit them and their lifestyle. This landscape is proof that beautiful outdoor spaces can be simple and manageable.
A LAYERED GARDEN
This gorgeous home is graced with a beautiful mature landscape that we greatly admire. The design is very much in keeping with the architecture of the house. Every gesture is measured, and serene in effect. The arborvitae hedge around the pool is a breathtaking height, and is perfectly pruned. The side gardens are equally as beautiful. Though the property is on a corner, the many layers of landscape help to provide privacy and quiet. Age is very becoming to a landscape that is regularly maintained. Though we neither designed nor installed this gorgeous landscape, we have assisted in other areas. We plant the seasonal pots and we lined a number of powdercoated steel obelisks with green coir in lieu of a planting.
MY SECRET GARDEN
Small neighborhood properties can be a challenge, and a delight to landscape. For this client, an utterly private place to sit and enjoy the garden was the first order of business. The secret garden in the back is completely private. A generously sized blue stone terrace is a place for family and friends to congregate, and features an old English lead fountain. A pair of crabapple espaliers and a large container custom made by Branch Studio placed in front of a classic white wood trellis softens the wall of the garage, and provides so much visual interest. Both the sun porch and pergola in the front of the house have been planted with the climbing Canadian explorer rose, John Davis. The south side of the rear yard features a beautiful old tricolor beech, and a new collection of katsura trees. The westerly lot line is host to a curved hedge of Venus dogwood. This is a jewel of a secret garden you will not want to miss.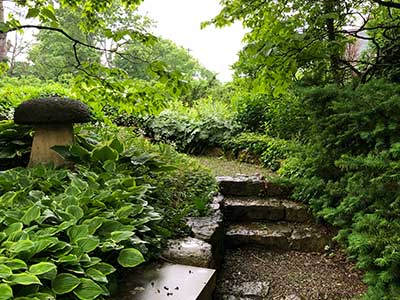 CORGI RUN
Landscape designer Deborah Silver will put her garden on tour, along with selected gardens of her design or influence, in her 12th annual Garden Cruise. Her landscape, now 23 years old, provides an insight into her design process, much of which is very friendly to her beloved corgis. Sited on a one-and-a-half city lot in an old neighborhood in Pontiac, this garden features her clean and crisp design aesthetic at work, developed over many years. An aging landscape sometimes asks for renovation. You will see a few changes. The front yard now features over 60 feet of planter boxes for summer flowers, and a rose arbor planted with John Davis roses. The property features several changes of grade. The driveway level garden is home to a patch of hostas and butterburs. Five large containers make the driveway feel more like a terrace. The fountain level garden surrounded by Princeton Gold maples has become very shady, and is a cool place to be in the heat of the summer. The upper level garden is dominated by old arborvitae and boxwood, and a 20 year old stand of anemone Honorine Jobert. This small property features maturing trees, shrubs, and stands of groundcover, punctuated by wildflowers and a few favorite perennials. The deck level has 16 Italian terra cotta pots planted with seasonal flowers.
Updated 7-29-19